One of the significant recommendations by consultants commissioned by the government to evaluate or recommend mitigation measures was "finding an appropriate reservoir".
Nature is offering an amazing natural reservoir and a perfect set of circumstances to manage these rivers simultaneously from one location.
John Pomeroy, the professor at the University of Saskatchewan and the Canada Research Chair in Water Resources and Climate Change is quoted as saying: "It's at the headwaters of the Highwood and the Elbow and the Kananaskis Country,", "That's the bull's-eye."
"Conservationists have suggested the best way to manage for future flooding lies upstream in the headwaters, the area along the Eastern Slopes of the Rockies". http://www.usask.ca/hydrology/downloads/CgyHerald_Derworiz_18Jun2016.pdf
The Central Joint Reservoir (TRJR) in Kananaskis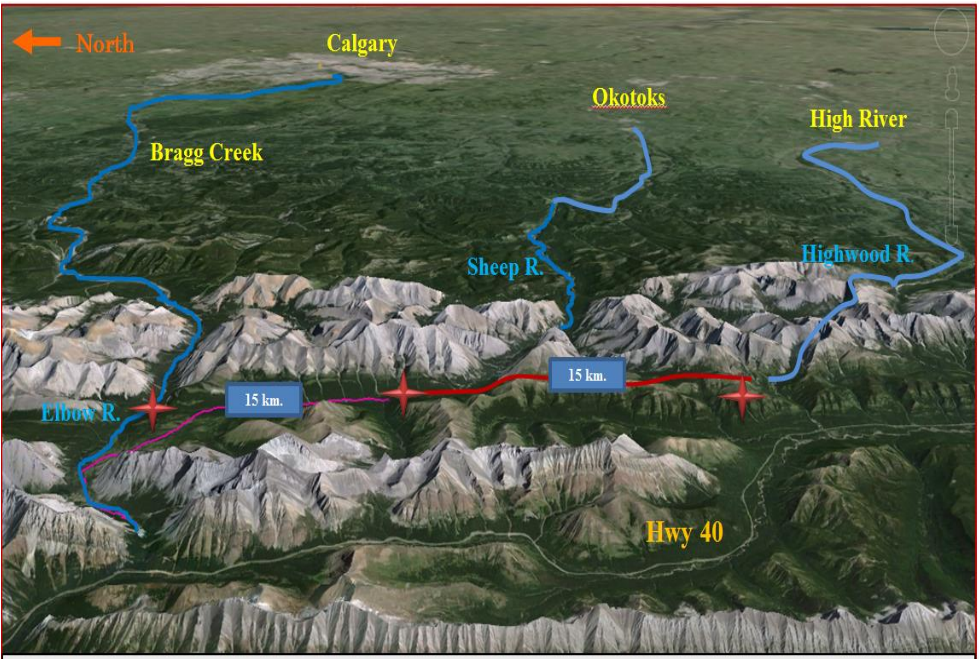 This central joint reservoir, (referred to as the "TRJR") would be located within the green vegetation area (shown in the map) in a valley that has an average width of 1 km and is surrounded by mountains with an average height of 800 m, the length of the available area for the reservoir is about 30 km. The magnitude of the available volume in this area is large enough to accommodate 10 times the size of the proposed Springbank reservoir.
This proposed reservoir would control and manage the water in three rivers (Elbow, Sheep and Highwood) from one central location in the vicinity of the Sheep River.